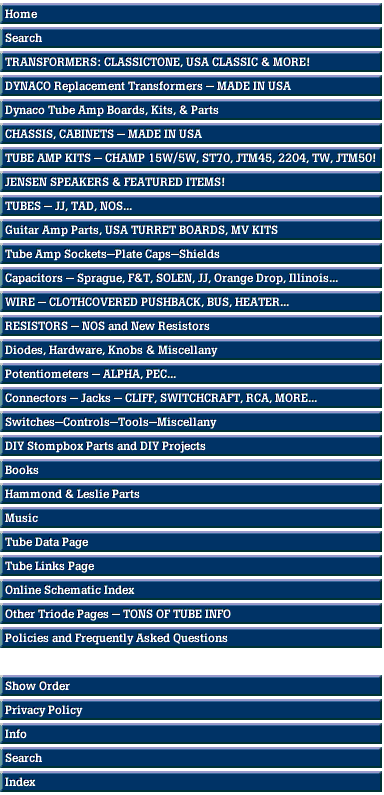 A new replacement for the choke typically used in Super & Twin Reverb amplifiers, or may be used as a power supply choke for a small single-ended amp project, or a general replacement for chokes that feed screen & preamp current in tube amplifiers.

Brand new production, and made right here in Chicago, USA. A bolt-on replacement for BF Fender Super Reverb, Twin Reverb , Showman, Pro Reverb, & others. Replaces Fender part numbers 125C1A and 22699 .

Choke core measures 2 1/4 inch wide X 1 7/8 tall X 1 3/4 inch deep over the covers. Mounting centers are 2 3/4 inch apart.

Rated 4 henries at 90 ma DC. 110 ohms DC resistance (+-5%), 2500 volt DC factory hipot tested.

Chokes and transformers are warranteed by the manufacturer against defects of materials & workmanship for 6 months from date of purchase.

Compare our price for this item to those offered elsewhere. And ours are hot off the assembly line right here in Chicago, made by folks with over 50 years experience making high-voltage transformers & chokes for tube amplifiers.




Triode, USA
Customer Service
M-F 9AM-4PM CT 1-800-774-3201
Email us Anytime: questions@triodestore.com