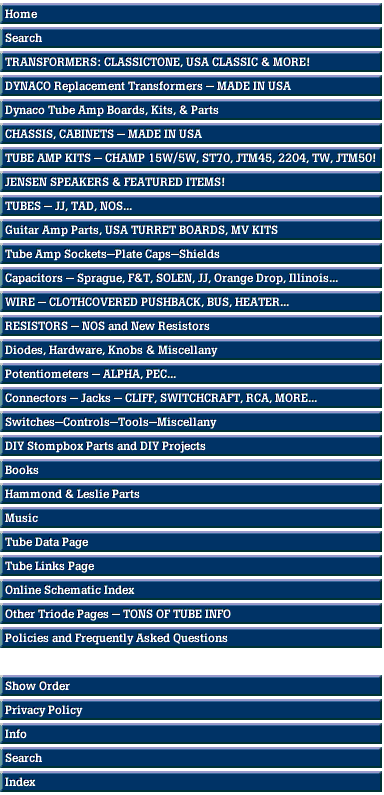 DISCONTINUED - LISTING LEFT FOR INFORMATIONAL PURPOSES
PARTS ONLY AVAILABLE, NO BOARDS AVAILABLE Driver board designed by Shannon Parks over at DiyTube.com. Engineered as a replacement driver for the Dynaco Mark III & IV as well as your own DIY monoblock, the diytube Poseidon uses a 12AX7 and a 12AU7 for pure triode perfection allowing use of an almost limitless selection of NOS and new tubes. This new driver uses the classic modified Mullard topology with constant current source in the tail of the phase splitter - a perfect mix of performance and warm tube sound.

* a drop-in replacement with no other changes needed * detailed schematics & a parts list * support provided at the growing community forum at diytube.com , manufacturer varies, check with DIYTUBE.COM for current place of production.

NOTE: NO BOARDS LEFT. YOU MAY BE ABLE TO SOURCE ON EBAY OR FORUMS. WE HAVE MOST PARTS FOR THIS BOARD LEFT. PLEASE INQUIRE BY EMAIL IF INTERESTED.




Triode, USA
Customer Service
M-F 9AM-4PM CT 1-800-774-3201
Email us Anytime: questions@triodestore.com