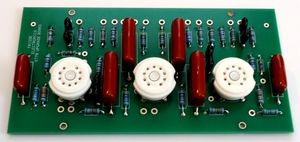 Our newest version of the EF86 board has been slightly revised to accept 6922, 6DJ8, 7308, and 6CG7 in the phase inverter position as well as 12AU7, 12BH7, and ECC99 that were previously supported. A 6AU6 version of the board is also available but does not support 6922, 6DJ8, 7308, or 6CG7.

Our 6AU6 board might sound to some of you like a step backwards, but using 6AU6/EF94 opens up lots of opportunities for bargain NOS tube rolling, as there's at least a dozen pin-compatible types with 7BK and 7CM basing that potentially could be used, (eg: 6CB6 and 6BH6) most are readily available and reasonably priced.

For more information please see our Dynaco Page

"Blank Board" means just that, you supply the parts.
"With Parts" means all board parts, you solder on board yourself.
"With Parts" includes some off board resistors (for input, etc.) that normally need replacing. All kits include instruction manual, but not tubes, each board requires 2 EF86 or equivalent tubes (6AU6 for "6AU6 version") and one of either 12AU7/ECC82 (or equivalent),12BH7 or ECC99. The EF86 board also supports 6922, 6DJ8, 7308, 6CG7.
Standard coupling capacitors are Xicon metalized polypropylene. You can also upgrade and get Solen Metallized Polypropylene Capacitors.


We also have a original style clone board to replace the originals.


TriodeElectronics and SDS Labs Power Supply Boards are an upgrade for the original aluminum can capacitors. The original may be left in to cover the hole in the chassis. Of course, we also sell the replacement aluminum can capacitors as well.

We now have a Killer Mic Preamp Project with our new ST70 EF86 board. Check out the link for it.