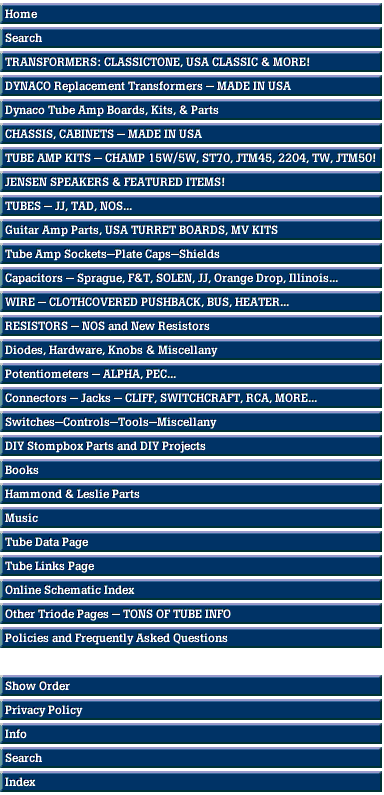 DIY Build or Rebuild Kit for a Blackface AA764 Fender Vibro Champ Amplifier. Your little Champ will sound better than ever before, and provide years of reliable service. The kit includes all Made in USA transformers, High Quality Hand Made in USA turret board, High Quality Carbon Comp Resistors, and Sprague Orange Drop or Mallory 150 Series capacitors, our 5F2 champ power transformer or Laydown Dual Voltage 40-18027, TF103 Output Transformer or 40-18031, Replacement Filter Capacitor, two 8 pin Belton sockets (6V6,5Y3), two 9 pin Belton socket (12AX7 x 2), Potentiometers are CTS or Alpha, two 250k potentiometers (Tone Controls), one 1M potentiometer (Volume Control), one 3M potentiometer (Vibrato Speed), one 25K potentiometer (Vibrato Intensity), Switchcraft Jacks, Carling Switch, Fuse Holder, Lamp Holder & Jewel, & Power Cord. The kit also offers some flexibility for those who aren't afraid of experimenting. The Filter cap is a JJ 40-20-20-20 @525V so you could try some different power supply filtering configurations by paralleling two sections for a single 60uF. The output transformer has outputs for 4 and 8 ohms as well as ultra linear taps aka Dr. Z amps, if you wish to use them. We will also throw in enough Cloth-covered Pushback wire to do the job. Tear the guts out of that solid state combo and build this inside. Great for DIY Builds. All you need is a Chassis, Cabinet, & Speaker!!!

All Transformers are Made in USA by a company with over 50 years experience making high voltage Transformers for tube amplifiers.

Transformers are warranteed by the manufacturer against defects of materials & workmanship for 6 months from date of purchase. Turret board is RED. Get the iron hot!

Also includes Layout & Wiring Diagrams for our transformers.

We now offer a Laydown Dual Voltage 120/240v Version 40-18027 Power Transformer (see drop down menu)

TF103-48 output transformer is now available with EITHER 2 3/8 inch mounting hole centers (fits silverface & blackface Champs from 60's & 70's) or 2 inch mounting hole centers (fits later model Champs). Or you may use our 15W SE OT (40-18031) for increased headroom and wattage capability! (see drop down menu)

If you purchase this kit "With Tubes" you will receive 6V6, 12AX7 x 2, 5Y3.




Triode, USA
Customer Service
M-F 9AM-4PM CT 1-800-774-3201
Email us Anytime: questions@triodestore.com